Retrospective 2019: Embassy of Circular & Biobased Building
Bouwen heeft een grote impact op het klimaat. We beïnvloeden de aarde op een negatieve manier als we doorgaan zoals we altijd deden. Het moet en kan anders. In het verlengde van het thema van 2018 – circulair – kozen we dit jaar voor de toevoeging van een biobased aanpak. We keken naar duurzame strategieën om niet alleen te voldoen aan de huidige normen, maar ook aan de uitdagingen van morgen. We willen nieuwe vormen bedenken om klimaatneutraal te bouwen of, nog beter, klimaatpositief: van een negatieve footprint naar een positieve footprint, CO2 opslaan met bouwen in plaats van uitstoten.
Part of
Embassy of Circular & Biobased Building
Retrospective 2019: Embassy of Circular & Biobased Building
Part of Embassy of Circular & Biobased Building
Building has a significant impact on our planet's climate. We will have a negative influence on the earth if we continue to do what we have always done. Things must and can be done differently. In line with the 2018 theme – circular – we opted for the addition of a biobased approach this year. We looked at sustainable strategies to not just meet today's standards, but tomorrow's challenges too. We want to devise new ways to build that are climate neutral or, even better, climate positive: from a negative to a positive footprint, storing CO2 with building instead of releasing.
This Embassy brought partners together who explored this future through actual design assignments and new scenarios. The main questions were: how can we scale up, what does a new circular construction chain look like, and what new design vernacular is appropriate when building with biobased materials? Through inventing and creating alternatives, we challenged the industry to think beyond value in terms of money and recognize other values.
Dutch Design Week 2019
Right in the middle of the Ketelhuisplein, at the heart of DDW, visitors encountered the Biobasecamp. The design of this pavilion by architect Marco Vermeulen was an architectural expression of how  'building with trees' can contribute to the reduction of CO2 and nitrogen emissions. And how conventional building materials such as concrete can be replaced with biobased materials.
The deck was constructed from large modular floor panels made of cross-layered timber: 'the concrete of the future'. The cross-layered timber panels had to be made from German softwood because it is still not produced in the Netherlands. To emphasise this point, the deck was supported with poplar trunks that recently flanked the A2 near Boxtel. They had to be felled because their age meant there was a risk they could be brought down in a storm.
The Growing Pavilion went a step further. It experimented with new materials to demonstrate the possibilities of biobased building. The pavilion, which was based on two years of research, was unique in the way in which a large number of biobased materials – such as wood, hemp, mycelium, bulrush and cotton – were employed together to form a special structure.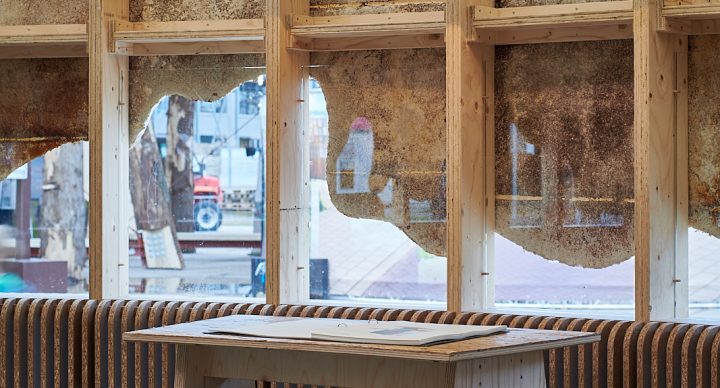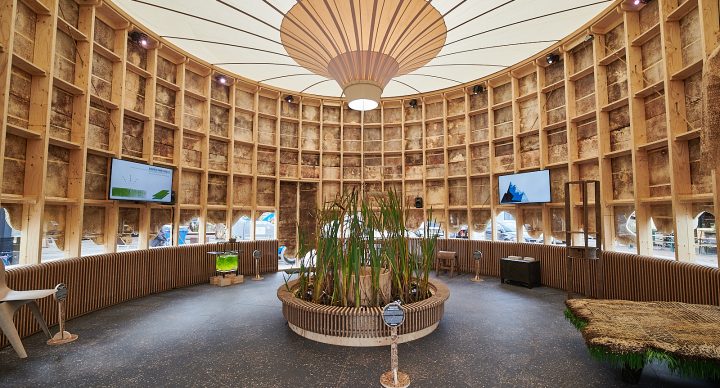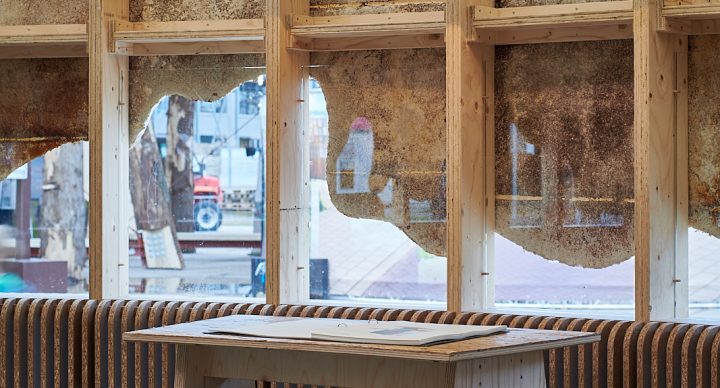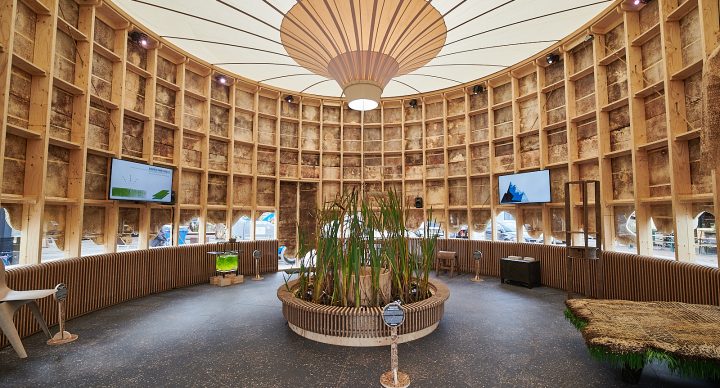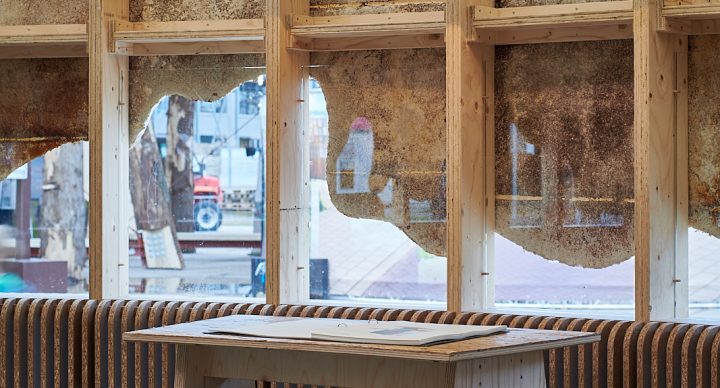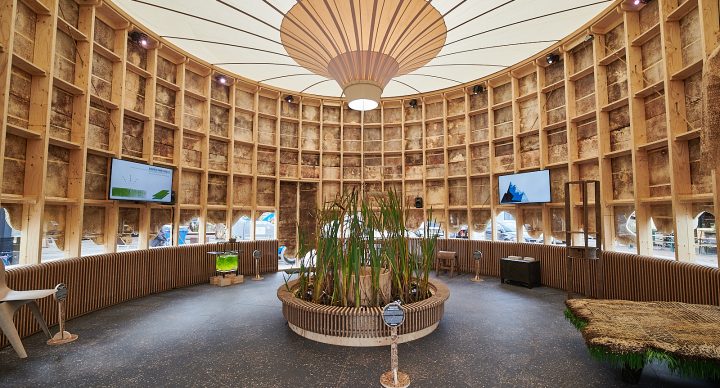 So the pavilion was also an ode to the beauty and power of biobased materials. All too often these are still offered as a similar looking environmentally friendly alternative to conventional materials. But biobased materials can be better, smarter, more original, more beautiful, healthier and more ingenious than materials we are already familiar with. In using biobased materials, designer Pascal Leboucq exposed the natural raw material as much as possible. So that pavilion visitors experienced the unique, organic textures and colours. Especially striking were the stains and the surface texture of the mycelium building blocks, specially cultivated for the walls. They formed a kind of skin instead of a smooth wall.
Programme components
Biobasecamp and The Growing Pavilion formed an attraction in themselves at Dutch Design Week's most central location. This location, the Ketelhuisplein, was visited by 140,000 people.
But there was much more to see and experience. For example, every morning there was a live concert (Growing Music) in the pavilion with music by J.S. Bach. Sounds from nature and improvisations were added. Creating a soundscape that could be heard in the pavilion for the rest of the day.
The Growing Pavilion also presented an exhibition of biobased works by Aniela Hoitink, Christien Meindertsma, Diana Scherer, Eric Klarenbeek, Martijn Straatman and HuisVeendam. Visitors were triggered to learn more from information boards and videos (the 'making of' and the 'reasons why').
In the Biobasecamp exhibition, visitors were brought up to speed with straightforward explanations of  why building with trees is so beneficial a medium in the fight against global warming.
There were several meetings and presentations. From a Captains Dinner for Brabant leaders in the circular economy to the talk show Good Design for a Bad World, hosted by Marcus Fair (chief editor of Dezeen). DDW ambassador Stefano Boeri also shared his vision on urban development and circularity.
De Embassy of Circular and Biobased Building Theme Conference was attended by 125 professionals from the world of infrastructure, construction and the biobased economy. Speakers were Anne-Marie Spierings (Province of Noord-Brabant), Marco Vermeulen (Studio Marco Vermeulen), Lucas de Man (Company New Heroes), Wouter van Twillert (C-Creators Het Bouwprogramma) and Rudy van Gurp (TBI WOONlab).
Media
The podcast for the Embassy of Circular and Biobased Building discusses the theme for this Embassy. On thegrowingpavilion.com everything about The Growing Pavilion is explained. The materials atlas can be found there: open source accessible for everyone. You can also watch a short documentary and the videos that were shown in the pavilion are also available there.
The Embassy received a lot of media attention from different parties involved in design, biobased, architecture, construction and agriculture. The publication list includes more than 100 items in which this Embassy was mentioned and publications in which the Embassy of Circular and Biobased Building was the central focus. VPRO paid extensive attention to the Biobasecamp in the Tegenlicht episode 'Houtbouwers'. This broadcast opened up debate in the building industry, among housing associations and even led to questions in the Lower House. The complete publication list can be found on our press page. Images can be found on the WDE flickr page.