Retrospective 2021: Embassy of Rethinking Plastic
The Embassy of Rethinking Plastic sees plastic as an opportunity. Although our actions have undeniably led to environmental problems, plastic is indispensable in our daily lives. We use it for medical products, in cars and latex-based paints. We cannot simply ignore plastic. Nevertheless, a doomsday scenario arises for many when they think of plastic. During Dutch Design Week (DDW) 2021, visitors discovered what is possible with plastic, how we can better deal with it, and what the possible alternatives are.
Published on
19 December 2021
Part of
Embassy of Rethinking Plastic
Retrospective 2021: Embassy of Rethinking Plastic
Part of Embassy of Rethinking Plastic
"Plastic triggers something in people"
Curator Leonne Cuppen looks back with satisfaction at an extensive exhibition: "We have outdone ourselves again in this second edition." The idea for Rethinking Plastic came about three years ago. Searious Business , Dutch Design Foundation, and Yksi Expo set up an exhibition with plastic-related products for World Ocean Day. "That was about sixty objects selected in a short period. They were on display for three weeks. There was so much spin-off and interest that we wanted to do more with it. Plastic triggers something in people."
Read more about the philosophy behind the Embassy of Rethinking Plastic in this interview with curator Leonne Cuppen.
Promotion of sustainable designs
Yksi Expo, a platform for promoting sustainable design, is the permanent home of the Embassy. During DDW, fixtures by Rollo Bryant were on display. These also function as shelters or nests for flora and fauna in the public space. Or designs that show how to reuse plastic – such as the PrettyPlastic tiles made from old plastic frames, downspouts, and rain gutters. Or designers who use nature to create something new. Such as Tjeerd Veenhoven, who makes yarn from algae.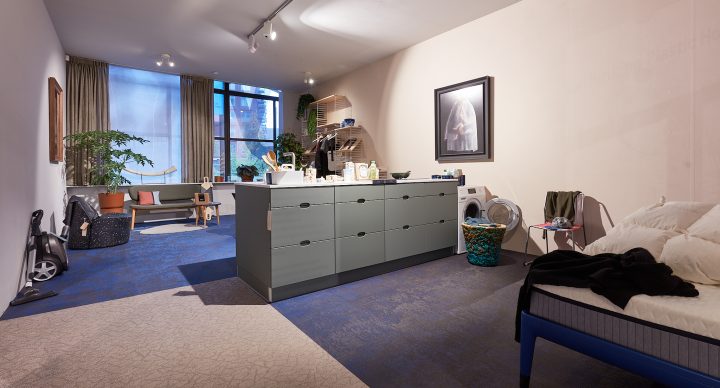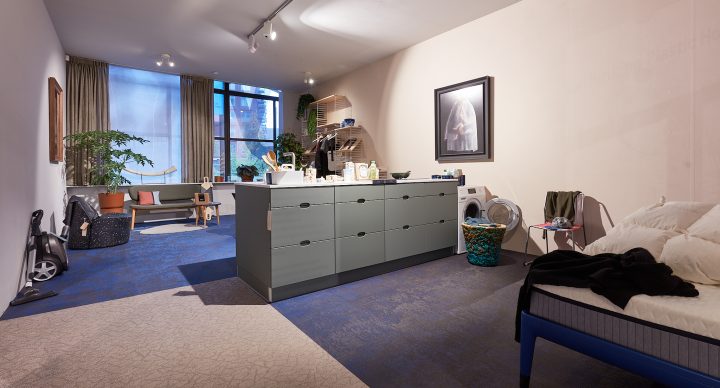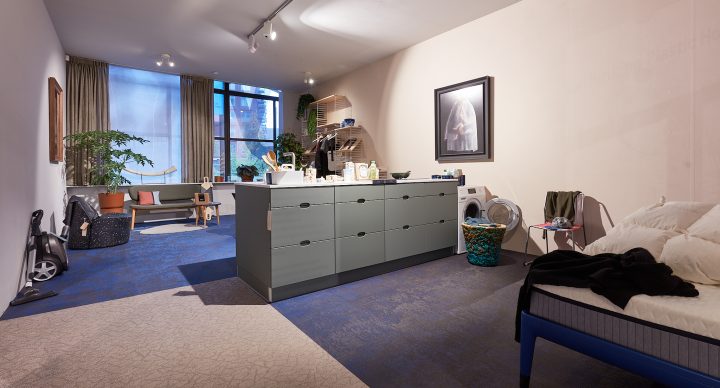 Rethinking Plastic House
Companies, science, and designers have an essential role in reinventing plastic and producing it sustainably. During the mini-symposium 'Chemistry & Materials meets Design', various partners and designers discussed Rethinking Plastic. Among them, curator Leonne Cuppen, Lia Voermans (Brightlands Chemelot Campus), Marnix van Gurp (Brightlands Materials Center), Marianne Aarnoudse (World Design Embassies), and Maria Soliman (Sabic), as well as various designers. The mini-symposium very appropriately took place at the Rethinking Plastic House. 
A studio of 50 m² completely furnished with (building) materials and interior products made of recycled plastic, bioplastics, and plastic alternatives. There were 100 different products on display: the floor, the paint, the lamps, and even small accessories such as toothpaste tablets. The exterior also presents a different approach to plastic. "You can see that in the lead substitutes, for example", says Cuppen. "But also the facade cladding, the bricks, and the sidewalk in front of the house. Everything tells a story".
The Rethinking Plastic House was built together with companies and knowledge institutions of Brightlands Chemelot Campus in Sittard-Geleen, a centre for the development of high-quality materials and processes for a sustainable and circular future. 
"The collaboration between Brightlands Chemelot Campus and World Design Embassies arose from the urgency to think differently about the future use of plastic", says Lia Voermans, Director of Innovation Strategy, Brightlands Chemelot Campus and partner of the Embassy.
Door het innovatief inrichten van het chemie proces voor het hergebruik en upcyclen van plastic in nieuwe producten. Én het beïnvloeden van consumentengedrag dan wel het creëren van (gevoel)waarde van gebruikers voor de beleving van recyclede producten.
— Lia Voermans (Brightlands Chemelot Campus)
Follow-up conversations
According to Voermans, the mini-symposium turned out to be an eye-opener about how different worlds – those of chemistry, science, and design – are discovering the future of plastic together. "Designing plastic products in such a way that they last longer, are easier to separate, and thus easier to recycle. By devising methods and systems to collect plastic in a meaningful way. By innovatively setting up the chemical process for the reuse and upcycling of plastic in new products and influencing consumer behaviour or creating added value for recycled products. It was an inspiring and fruitful first meeting between Brightlands Chemelot Campus and the World Design Embassies. A collaboration that leaves us wanting more; follow-up discussions have started."
Take the virtual Curator Tour in which Leonne Cuppen takes you through the projects of Rethinking Plastic.
Breakfast meeting
There was also a breakfast session for all designers participating in the Rethinking Plastic exhibition. Cuppen: "We all have a common denominator. Otherwise, we wouldn't be here. We can learn a lot from each other". While enjoying a vegan waffle with fruit, a cup of coffee or tea, and a glass of orange juice, the participants developed strategies so that we can all look at plastic a bit differently.
Read more about the Rethinking Plastic breakfast with the participating designers.
Consultants from T MC, an international consultancy company for technical specialists, also joined in. They spoke with two Italian designers, Giorgio Gasco and Gianmaria Della Ratta, of studio Groovido. Together with engineer Jan Pels, they design toys made of Torwashable plastic. The Torwash is a washing machine that dissolves and loosens PLA, a biodegradable plastic. Pels: "With recycling or upcycling, the material loses its quality. Not with this. It is completely circular".
In addition to Gasco and Della Ratte, Polina Baikina and Envisions addressed the issues of pressing, 3D printing, and connections.
Would you like to contribute to the Embassy of Rethinking Plastic? Or are you simply curious about the developments? Keep an eye on the Embassy page or contact us.