Water... we take it for granted, and that really has to change
Published on
13 December 2019
Retrospective 2019: Embassy of Water
We often take it for granted that water runs from the tap. But due to climate change and pollution, clean water is becoming less and less available. As a society, we need to ensure that we are more careful with water now and in the future.
Many parties are involved in water quality and themes like the (re)use of water. Design offers surprising solutions for these commonly discussed themes. Designers can offer ground-breaking ways of looking at water and, in doing so, make important contributions towards changing the way we manage water.
Dutch Design Week 2019
This year, nine designers worked together with various water partners resulting in a creative Water Hub. Both water professionals and visitors found inspiration and had their preconceptions questioned here. On our way to a self-sufficient, circular and sustainable water chain.
The Embassy of Water team had set itself the goal of showing how valuable water is and spawning more appreciation for tap water, rainwater, rivers and canals. Visitors were stimulated to think about their own water consumption and inspired to look at water differently, with the objective of achieving a sustainable, water-friendly society.
Programme components
This year the Embassy of Water programme comprised several parts. As well as an exhibition, there were lectures, workshops and a conference. Between 12,000 and 15,000 people visited the Embassy of Water.
The exhibition in the Campina grounds included cross-over projects between innovative designers and water partners. Together they developed applicable solutions around sensible water use, local and natural purification, climate-proof construction, the recovery of raw materials and the creation of a robust, resilient water system.
One of the projects was an interactive installation. It attempted to discover whether Dutch people are open to alternative water sources such as rainwater or local (own-home) purified water, a collaboration between designer Wouter Corvers en the province of Noord-Brabant. Another inspiring example was the DIY Rainwater project by Studio Bas Sala in collaboration with the municipality of Eindhoven. A simple do-it-yourself design to collect rainwater and use it in the garden instead of discharging it into the sewer.
Kim Hemmes brought different artists together for a water experience. 'There's something in the water' emphasized our relationship with water. Water is everywhere and therefore a fundamental part of our lives. The experience offered by this group of artists revealed our personal impact on this transforming substance.
Visitors could also learn about large, innovative projects such as SchoonSchip by Space&Matter. A circular, floating neighbourhood that is self-sufficient and therefore regains control and responsibility over local sources of energy, water and food.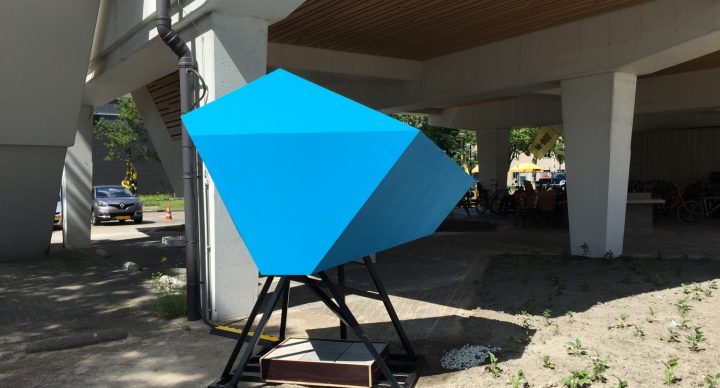 In the lecture programme, Kasper Spaan talked about micro water management: new design challenges in the climate-adaptive city. Bas Sala explained how the smart rain barrel is a solution that contributes to tackling climate change inconveniences. And John Jacobs talked about how his city, Rotterdam, arrived at its response via the climate adaptation strategy through the Water Sensitive Rotterdam programme.
There were interactive dialogues too. For example, how can you involve residents in water projects? This matter was discussed based on the work of Amsterdam Rainproof and the DIY rainwater project. In the Embassy of Water, aldermen from Brabant municipalities and directors and members of Brabant water boards met at the administrative lunch meeting 'Dealing with extreme weather in Brabant'.
The nine designers who worked with the partners from the Embassy of Water shared their visions for the future during the Embassy of Water Theme conference. Visitors were invited to contribute their ideas for the implementation of the objectives of the Embassy of Water.
114 guests visited the Embassy of Water as part of a DDW programme theme route. They included two international delegations from China and Germany, and there was a tour of the Top Sectors with figureheads from those sectors and SGs and DGs from various ministerial departments.
Media
The publication list comprises articles in which this Embassy was mentioned, and publications which focused on the Embassy of Water. Among the publications an article in De Limburger and in H2O. The complete publication list can be found on our press page. There is also a podcast about the Embassy of Water.