Biobasecamp: the concrete of the future
Biobasecamp is a pavilion and an architectural expression of how "building with trees" can contribute to the reduction of CO2 and the reduction of nitrogen by replacing conventional building materials such as concrete with biobased materials. The deck is composed of large modular floorboards made of cross laminated timber. After the Dutch Design Week, these can then be reused as floor elements in, for example, new homes.
Published on
14 October 2019
Part of
Embassy of Circular & Biobased Building
Biobasecamp: the concrete of the future
Part of Embassy of Circular & Biobased Building
The CLT used is made in a German factory from German coniferous wood. But why is there no Dutch CLT yet? By creating more economic value for wood, more forests can also be planted. The building assignment can in this way contribute to combating climate change and the quality of the Dutch landscape. This may also apply to the Brabant poplar landscape that originated from the production of clogs and matches. That is why the deck is supported by branches of poplars that were recently on the A2 motorway near Boxtel, but had to be cleared due to their age and the risk of being uprooted.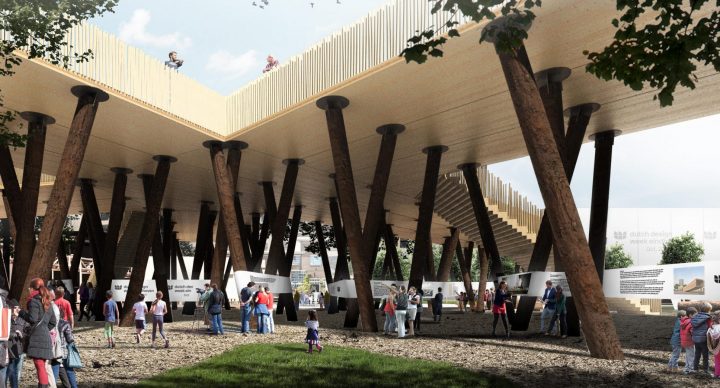 With the pavilion at the Dutch Design Week we want to introduce visitors to biobased building and in particular the use of cross-laminated timber. It generates a starting point of exploration for designers and clients towards the possibilities that this "concrete of the future" offers.
To compare this pavilion with the Crystal Palace built in 1851 in world exhibition in Hyde Park (London) and symbolized the industrial revolution is of course far too pretentious. But may this pavilion at the least mark this possible turning point for a new era!