New podcast: De Tekentafel!
In De Tekentafel, journalist Niels Guns talks to various guests every month about the power of design in solving social issues. How do you get the most out of a project with designers, what is successful collaboration and what can it offer an organisation? We will find out for you in De Tekentafel, a collaboration between Eindhoven Design District and World Design Embassies.
Published on
10 October 2021
New podcast: De Tekentafel!
Podcast 9: What is speculative design and how does it contribute to making new worldviews imaginable?
A DIY surgery robot, an artificial womb or a vending machine that gives you the right personalised cocktail for your microbiome. Designers from all over the world engage in speculative design; each in his or her own way. From purely poetic and philosophical to scientific and critical and everything in between. In this podcast, we speak to three designers engaged in making new futures and possibilities imaginable: Frank Kolkman, Merle Bergers and Marleen van Bergeijk.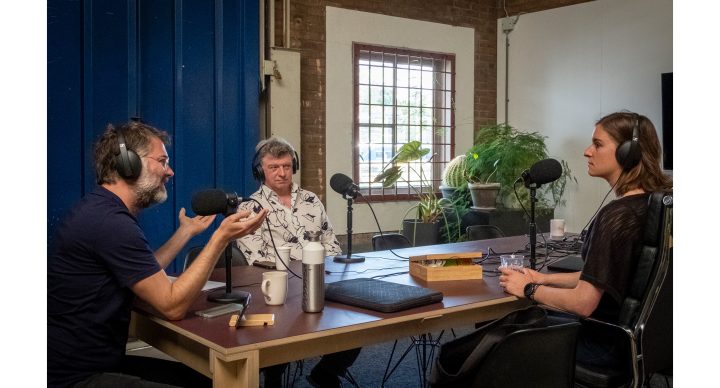 Podcast 8: How do you scale up and should that always be the goal?
Although the design sector delivers countless fantastic projects, solutions and concepts every year, the conclusion must be that not enough has happened with many of these. Chloé Rutzerveld explains from her experience as a food futurist and curator of the Embassy of Food why she thinks this is the case. Marcel Verhaaf works from SGK Anthem and Packadore Collective for the big players in the food industry and tells more about how you can make an impact with sustainable packaging. Shay Raviv talks about her new research in which she unravels the practice of implementing and maintaining social design projects. Why do some projects get a follow-up and others not? And what tips does she have for designers?
Podcast 7: How does design contribute to a more resilient society?
To answer that question, we talk to Mieke van Heesewijk of the SIDN Fund. She talks about the HackShield project, which uses storytelling and gamification to increase children's online resilience. They do this with a game for children in which they turn them into real Junior Cyber Agents. Heroes who not only protect themselves but also their environment from online danger. We also talk to social designer Marjolein Vermeulen about De Nacht Club; a safe place for unsafe subjects. Using the night as a source of inspiration, they organize interventions in public spaces that invite residents and professionals to be more honest, open and daring under the cover of night.
Podcast 6: How can design contribute to a better living environment
In this episode we speak with Lucas Zoutendijk (Studio 1:1) about the experiment Blik voor Groen that is part of the Embassy of Mobility in which cars make way for greenery in the streets. What could we do with this newly found space, and how do you decide this together with the residents? We also talk to Roel Schoenmakers (Cascoland) about the Van Deyssel neighborhood in Amsterdam where neighborhood entrepreneurs are links in the chain of formal and informal care in the neighborhood.
Podcast 5: How does design contribute to more connection?
Design is an important instrument of connection. Connecting with other people and with the world around us sounds rather simple but sometimes turns out to be very difficult in practice. In this episode, we talk to Anna Noyons of (Ink) and Philippe Rol of NulZes about the role of technology, connecting qualitatively, system change and embracing friction.
Podcast 4: How does design raise awareness of social issues?
In the fourth episode of De Tekentafel, we talk to Tabo Goudswaard (Embassy of Safety curator and designer) and Mies Loogman (designer). They explore how design contributes to awareness in social issues, and how to translate this into concrete solutions.
Podcast 3: What are important requirements for a successful collaboration between designers, clients and users, and what is good commissioning?
Together with Esther Jongsma (designer – VANTOT) and Dries van Wagenberg (What if Lab) we try to find out which aspects are of vital importance for a successful project. What are the important issues in such a collaborative process and what does good commissioning look like? Please note, this podcast is in Dutch.
Podcast 2: In design projects, the outcome is still totally unknown in the initial phase. Why is this so important and necessary?
We talk to Karla Niggebrugge (Policy Officer Water – Province of Noord-Brabant) and Jop Japenga (Designer – Afdeling Buitenlandse Zaken) about the field of tension between designers and clients. Clients often expect concrete solutions upfront, while designers cannot and do not want to answer this question in advance. Please note, this podcast is in Dutch.
Podcast 1: What is the power of storytelling and imagination?
To explore this question, we talk to Pascal Leboucq (designer and storyteller), Anne Ligtenberg (designer) and José Sanders (Professor of Narrative Communication – Radboud University Nijmegen). Please note, this podcast is in Dutch. Please note, this podcast is in Dutch.