An expedition to the Liveable City
The Netherlands has to build a million houses. "If we do that with bricks and mortar, we will simply be storing all the problems related to nitrogen and CO2 in those houses", says Frank Reniers, programme manager of the Ministry of the Interior and Kingdom Relations' (BZK) Agenda Stad (national urban agenda), at the close of the Liveable City Expedition. "Then when we look back in 10 years time, we"ll say to ourselves: we missed some great opportunities."
Published on
21 November 2022
An expedition to the Liveable City
During Dutch Design Week (DDW22), the Liveable City Expedition brought officials, (social) entrepreneurs, designers, (experiential) experts and initiators to the exhibitions of the Embassy of Urban Mobility and the Embassy of Biobased Building. They saw examples of how the housing challenge can be linked to other transitions such as water, agriculture and mobility, but also to inclusiveness and health.
Together
"The examples show how many aspects play a role in what we call liveable," says Jetske van Oosten, ambassador of the World Design Embassies (WDE) programme. The objective of the expedition was to bring together the different frontrunners. "Frontrunners who are working to achieve this innovative way of thinking about urban liveability. For example, Groen voor Blik (Green for Gasoline) by Studio1:1, looks at how we can use our cars to improve the quality of life in cities. Parking spaces take up a lot of space and that has an impact on how we experience the city as well as on our health. It's hard to tackle this problem at the neighbourhood level. The question is much more about how we want to engage on a scale the size of the Netherlands. Those are complex issues. This expedition is intended to make you feel that you are not alone."
On 6 July 2022, Minister for Housing and Spatial Planning Hugo de Jonge launched the Mooi Nederland (Beautiful Netherlands) programme, which focuses on the spatial quality of the Netherlands. A joint approach is needed, writes the minister in the foreword: "including the provinces and municipalities, the stakeholders and all those in the community who want to contribute their thoughts and actions. We gather knowledge and inspiration that contributes to all phases of spatial development: explorations, planning and integration. Through design research, we unify all interests from the start. Imagination and trial and error are central to this programme." And what can be learned from the creativity of designers? That was the subject of the Maakruimte voor Mooi Nederland programme, which started with two expeditions during DDW22.
'Actually, you should approach the conversation differently. Don't talk about what fits, but about the question: what do we want? We have to go back to the core of how we want to live together as human beings. That's what WDE stands for. How do we want to deal with issues, instead of what is the solution to the problem?'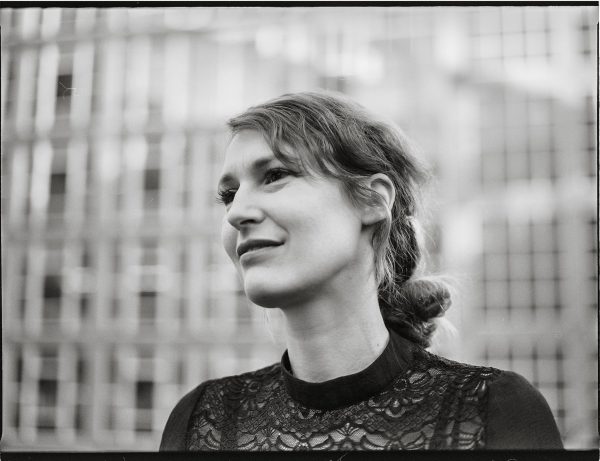 What do we want?
Van Oosten: "Actually, you should approach the conversation differently. Don't talk about what fits, but about the question: what do we want? We have to go back to the core of how we want to live together as human beings. That's what WDE stands for. How do we want to deal with issues, instead of what is the solution to the problem? What we show is that designers create a context in which everyone can feel like a maker. In other words, it is not about designing a plan of what the livable city looks like, but rather about how we can use design to engage in that dialogue."
Reniers: "What I like about the examples we have seen is that it becomes very clear what is at issue. In the pavilion of the Embassy of Circular & Biobased Building, for example, we saw building materials of the future, or in actual fact of today. We now have mono-cultures of potatoes, pigs and chickens. We could also grow hemp or other roadside grasses that would reduce nitrogen emissions. At the same time, we then have something to build with."
City Deals
With the Agenda Stad programme, Reniers is trying to bring about national transitions. "Municipalities come to us with either a big opportunity or a big problem, which they need different ministries to solve. In the context of a City Deal, municipalities, provinces and the national government work together, as well as with project developers, knowledge institutions and companies. Twentynine City Deals, in which these partners work together on a variety of tasks, have been concluded. Twelve of these are still currently active, such as de Slimme Stad (the Smart City) and Kennis Maken (Knowledge Making). Reniers: "Working together and experimenting to see if it works. If it works, we will scale up and see whether the solution is also suitable for other municipalities." 
"We try to amend national legislation or arrange financing. For example, there is still a standard in the Netherlands today that states that timber construction is not sustainable because it involves felling trees. That used to make sense. But now we know that it is much more sustainable to build with wood than with bricks and mortar. This standard is still based on the old system. We are in the process of amending those regulations. Many of the innovations we want to bring about by adjusting national policy can already be seen in the exhibition here during DDW. That is hugely inspiring!"
Poo sandwich
A very striking example Reniers saw during DDW22 was BROODJE POEP (poo sandwich) by social designer Fides Lapidaire. Under the motto 'poo is worth its weight in gold', BROODJE POEP visits festivals and events to make as many people as possible aware of the value we create and flush away every day. BROODJE POEP serves sandwiches of which the ingredients have been grown on compost derived from human poo and pee. "That opens up the conversation to a wider audience," says Reniers. 
Two years ago, Agenda Stad also began a new initiative: Loket Ontwerpkracht (design-power desk).  If you ask a civil servant to solve a complex problem, their reflex is often to have meetings with many people at an early stage. That is not the solution, because complex issues require a different perspective and a different approach. Sometimes you must dare to come up with different solutions. Design-power desk helps by linking designers to City Deals, but also by offering appropriate design tools and providing customisation where necessary. "Reniers invites designers who are working on a certain theme, such as circular construction, healthy food environments or electric shared mobility, to join one of the City Deals coalitions. "The coalitions are already prepared to make an impact on a national level, but we can certainly use creative power to do so."
The 'Maakruimte voor Mooi Nederland' symposium
In addition to the Liveable City Expedition, there was a Circular Landscape Expedition. The expeditions are an initiative of the Ministry of the Interior and Kingdom Relations (BZK), the Ministry of Education, Culture and Science (OCW) and World Design Embassies. The insights gained during the expeditions will be presented on December 1 during a symposium in The Hague under the title: 'Maakruimte voor Mooi Nederland'. Designers, experts, (social) entrepreneurs and civil servants are most welcome!
Van Oosten: "During the symposium, we want to make a joint balance of powers analysis. We see that there are very strong networks, such as City Deals and WDE, for example, but still, everyone works more or less according to their own way. That is not a bad thing in itself, of course, but it would be even nicer if we know how to find each other better so that we can strengthen each other's role within the transitions!"