Building a context for makership
Changing the Ministry of Justice and Security (JenV) from the inside with creative power is what Nadiye Çakir wants to achieve with the Makers Collective. She is a strategic and social designer working in Justice and Security at the Knowledge, Innovation and Strategy department. To the government officials with whom Çakir works, she is the odd one out. Together with ten other makers spread over the various divisions of JenV and associated implementing organisations, she forms the Makers Collective. Çakir says, "One of our tasks is to create space for makership."
Part of
Embassy of Safety
Building a context for makership
Part of Embassy of Safety
Buzz
To increase the visibility of the Makers Collective, Çakir organised an event to introduce the collective. A major event that was slightly different than usual, Çakir explains. "With a short presentation, lots of visuals, a moderator who asks questions and an exhibition with examples. You really have to show and do things differently to ensure that people are open to change."
A moment when Çakir felt the energy was when moderator Marsha Simon asked people in the early afternoon as an icebreaker if they were a maker. "Even if you aren't, but you're also trying to change society. She made people aware that there is a maker in everyone."
A programme was devised together with the Embassy of Safety. The exhibition 'In Makers We Trust', presented during the last Dutch Design Week (DDW), could be seen, set up in the company canteen between the two towers of the Ministry of the Interior and Justice and Security. "Nice and striking, and everyone within the towers walks past it every day," explains Çakir. "When there's a buzz somewhere, people get interested."
For Çakir, upon reflection, the turnout of about a hundred people was surprisingly high. "People had registered in advance but also trickled in during the event. Even when we hadn't even started yet, the banner of the 'In Makers We Trust' exhibition attracted attention. While I was still arranging business, I heard passersby wondering aloud what that confidence in makers would be?"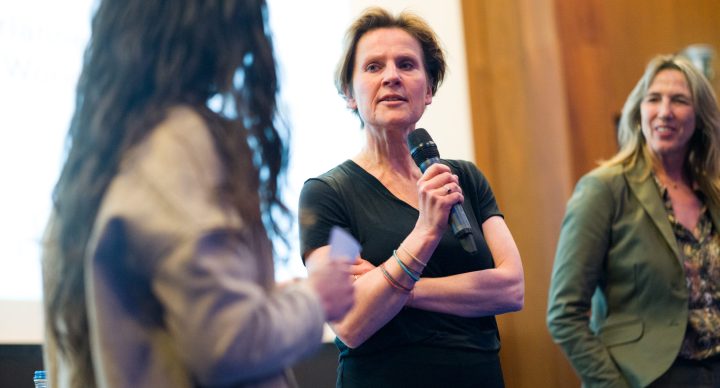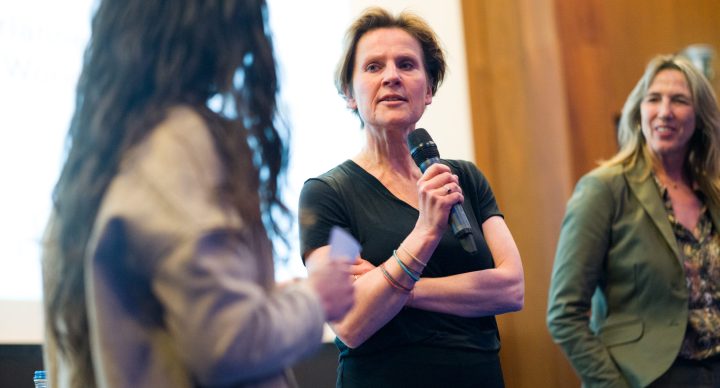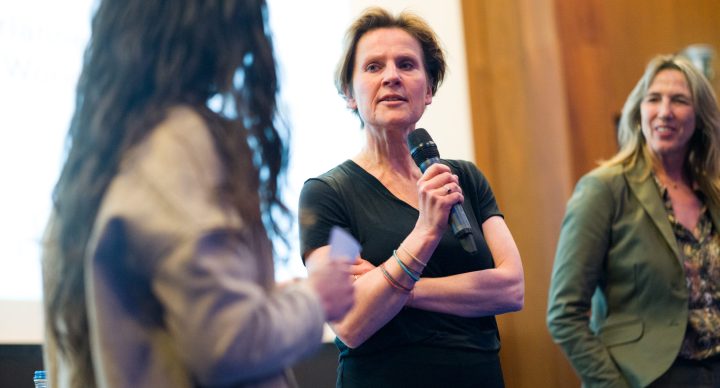 Mix
According to Tabo Goudswaard, creative leader of the Embassy of Safety and ambassador of World Design Embassies (WDE), the mix of the diversity of visitors made for an energetic afternoon. Goudswaard says, "There were safety professionals, Çakir's colleagues, who were simply interested in the Makers Collective and makership. But there were also designers from outside, colleagues from the field who were interested in systemic makership in the security domain."
"In addition, a whole group of people were curious about how you design creative space within an organisation. There were officials from the Ministry of the Interior, the Ministry of Education, Culture and Science and the Ministry of Health, Welfare and Sport, but also De Nederlandsche Bank. They are also involved in the power of making and did not expect JenV to be among the first to have a maker collective."
Social impact
Çakir studied strategic design at Delft University of Technology and did her graduation research for the Department of Knowledge, Innovation and Strategy (IKS/X) within Justice and Security. This directorate is looking for indicators and relevant directions to innovate internally and externally to arrive at a proactive organisation that can combat the growing number of wicked problems, as she describes in her master's thesis. 
She designed tools and concepts for civil servants for the wicked problem of 'polarisation in online environments'. "They were so happy that I could stay," she says with a smile. Çakir has been officially on JenV's payroll since October 2022. 
Çakir finds it difficult to explain how the idea of the Makers' Collective came about. "It seems quite 'random'. Last year around this time, a lot of designers suddenly popped up left and right. It seemed as if all the innovation groups had thought of hiring a creative person."
"The Embassy of Safety has long been pointing out the trend that designers like me need to make a social impact. At the same time, you notice that civil servants realise that they cannot solve the many complex problems and issues with their straightforward way of working. They are looking for something else."
Strong together
According to Çakir, it was Olof Schuring, innovation advisor at JenV, who realised that it is good to bring in designers but that they cannot do it alone. Çakir says, "A designer has different ways of looking at work. This can 'clash' with the way a stereotypical civil servant works. It continuously asks you why you do something, what the point is and where it leads. It isn't easy to keep connecting with that. Then it is good that you can get together with other designers and stand strong together."

The Makers' Collective mainly wants to help civil servants by providing tools to respond differently to what they are dealing with right now, explains Çakir. "Changing that is challenging because you are part of the central government system, which is already very oppressive."
Complementary
Goudswaard likes the fact that the Makers Collective "is really an initiative of Çakir and her colleagues". Since 2019, the Embassy has been working on a safer Netherlands using manufacturing power. For Goudswaard, what is innovative about the Makers' Collective is that "you so explicitly build a context for makership". "You connect people across teams and boards, even across organisations." In addition to the tower where all JenV policymakers are located, the police, the Public Prosecution Service and the Probation Service of the Netherlands also fall under the Ministry.
"We complement each other", Çakir continues. "As my colleague Senna Snel (Public Prosecution Service, ed.) described in her presentation, the Embassy is like a sprinter. The Embassy sets the agenda and provides direction. As Makers Collective are the marathon runners, we work within the organisation. We need a little bit more space to be able to make small adjustments. That is why we are needed; together with the sprinters, we get the ball rolling."
In-depth
Evelien ten Elsen, the project leader of the Embassy of Safety and programme manager of WDE, gave a tour of the exhibition. "The designer of that project explained each project. There were many questions and a lot of interaction, and genuine interest. The exhibition was also interactive and inspiring during DDW, but then you're telling the story to visitors who are not well informed about security issues. That's different this time. Now it is mainly safety professionals who are well-versed in the material. They immediately go in-depth with the designers. That was very special to experience."
Çakir hopes that the event on 2 May has planted a seed for change. "Perhaps people will adjust their job ad text slightly. Or they'll contact the Makers Collective, a designer or a party linked to the Embassy of Safety with a question. We hope that in five years, we will be much bigger than we are now."
The exhibition can still be seen and visited until 13 June. Then there will be a follow-up event mainly focusing on the question: Making, how do you do that? Want to know more about this or join the event on 13 June? Find the event in our WDE programme shortly.
More photo's of this day here. 
Description of Maakkracht
By seeing the major problems of our time as design challenges, we can radically change the existing system. A creative maker can address abuses with imagination and guts. Empathic inquiry leads to new proposals. And by activating all stakeholders, support and space are created for a new approach to the issue.
(Source: Book Maakkracht)