10 x Improving the world with living organisms
Our current production and consumption practices can no longer be sustained. We must look for alternatives to polluting materials and foodstuffs. Living organisms such as bacteria, fungi, and algae help offer a solution. But how exactly does that work? You will find numerous fascinating examples at the World Design Embassies exhibitions during Dutch Design Week 2022. Read about the ten must-sees here:
Published on
11 October 2022
10 x Improving the world with living organisms
1.
Growing exotic spices in your supermarket
What if you could grow exotic spices like vanilla, turmeric, cardamom, and saffron yourself at your local supermarket? Designer Diya Samit set to work on this idea. Such spices are very popular because of their taste, aroma, colour, and medicinal properties, but they are often very expensive because production must take place under specific conditions and requires many hours of labour. In the future, we will grow these prized spices by genetically modifying fungi. This will enable you to create your own spices and play with their taste, smell, colour and health-promoting properties. 
Want to know more about this unique project? Visit the Embassy of Food in the Klokgebouw on Strijp-S.
2.
Fungi to colour your clothes
Will your clothes be coloured by fungi in the future? Fabulous Fungi, founded by Ilse Kremer, works on sustainable and safe textile dye made with fungi. These fungi use biochemical processes to produce pigments. Those pigments can then be used as dyes for fabrics. The dye itself is much more sustainable and the production process is far less polluting than the current process. Plus, it's completely safe for people who make and eventually wear the clothes.  
You will not find this project at one of the World Design Embassies exhibitions but rather at the Evoluon! Would you like to know more about how this process works? Then don't miss this project!
3.
Microalgae as a seasoning
Due to global warming and the warming of the oceans, various seafoods – such as mussels and shrimps – are likely to disappear from our plates in the future. Landless Food has found a remarkable solution for this, namely microalgae. There are many different edible microalgae that naturally have a rich flavour profile. Some microalgae have the salty taste of umami, while others have floral or spicy flavours. They are also packed with vitamins and minerals. The microalgae-based seasonings can even be grown at your local supermarket. 
Curious about the possibilities of microalgae? You can find out all about it at the Embassy of Food exhibition in the Klokgebouw on Strijp-S.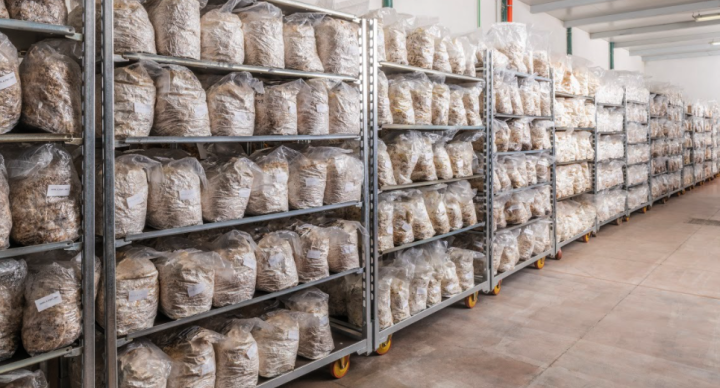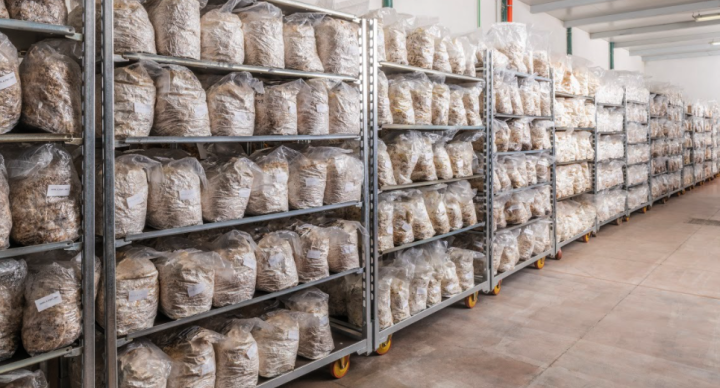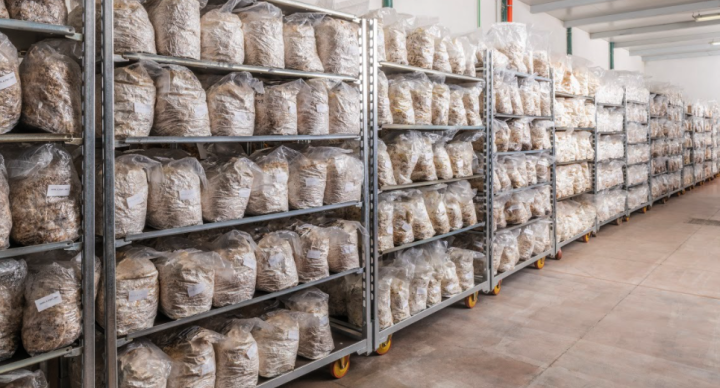 4.
Resilient biobased tiles
Mogu Floor is a collection of resilient biobased tiles for interior design and architecture. From agro-industrial residues to luxury living environments. This upcycling of residual materials promotes a circular approach within the construction sector. The tiles consist of a high-density mycelium composite core combined with an exclusively formulated biobased coating.
This project is part of the Embassy of Circular and Biobased Building, which will be located on the Trudotorenplein this year.
5.
Sea anemones as living recyclers
The beauty and intelligence of nature continue to amaze us. This sense of amazement is reflected in the project 'The Living Bin' by designer Bob Hendrikx. He researched the role of sea anemones as the ocean floor's key recyclers. What if live animals take on waste management in the future? He developed the "Nibble," a living bin made of glass and filled with specially soaked sea anemones that eat organic waste while also providing us with a spectacular light show. That saves a lot of CO2 emissions, if only because waste no longer has to be transported.
You won't find this project at one of the World Design Embassies exhibitions, but it is certainly worth a visit if you stop by the Klokgebouw. You'll find The Living Bin there in Hall 1.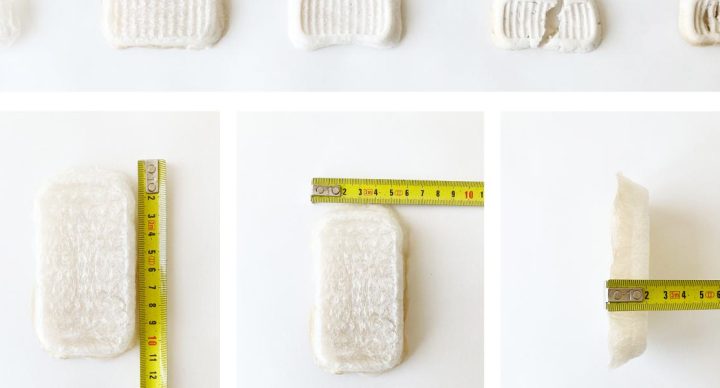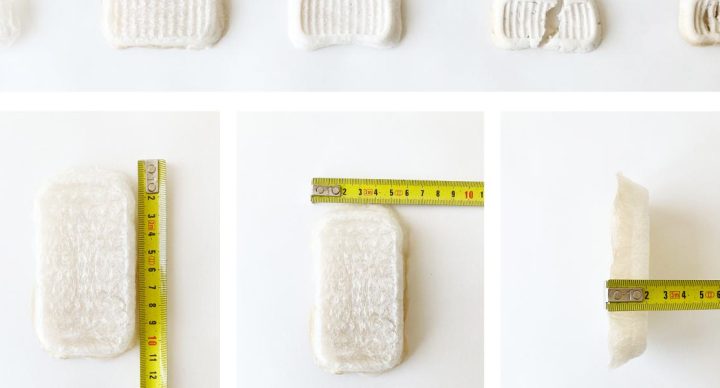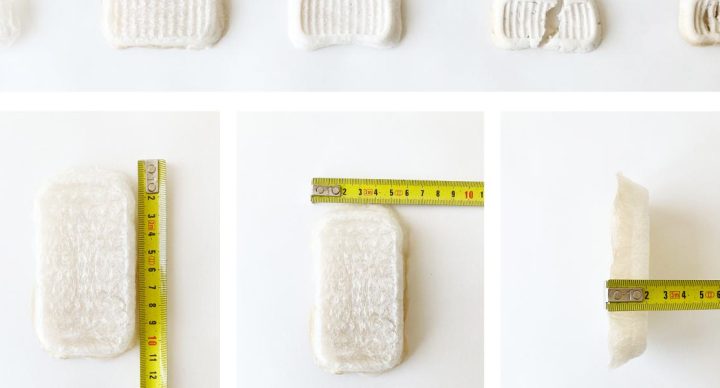 6.
Living alternative to plastic
Algae are not only edible, they can also be processed into materials. Austeja Platukyte is both a designer and a scientist. She developed Zero Waste: packaging materials based on algae as an alternative to plastic. The material is fully compostable and biodegradable. This algae alternative to plastic is part of a larger whole. Austeja Platukyte is searching to discover materials that will enable people to live in balance with nature again. 
You can find her extraordinary project in the exhibition of the Embassy of Rethinking Plastic at Yksi Expo on Strijp-S.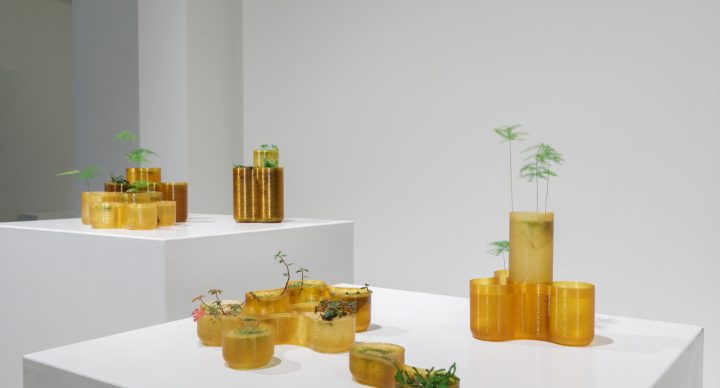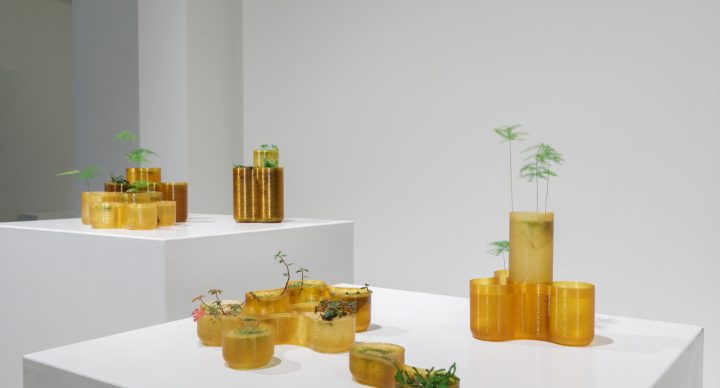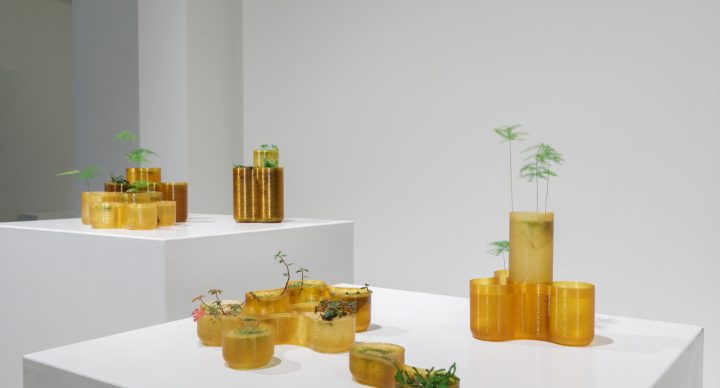 7.
3D printed elements for green algae
And we'll stick with the algae for a bit! Klarenbeek & Dros made this landscape of modular elements, 3D printed with Algae Biopolymers from Wierwaar. Green algae grow on hydrogels in the elements. In the process, they capture carbon and produce oxygen. The project explores the use of new vegetation: forgoing plants and replacing them with unicellular chlorophyllic organisms (algae). These have faster growth rates and higher photosynthetic efficiency than terrestrial plants, so they are more efficient at capturing atmospheric (CO2 > O2 conversion) and easier to maintain. 
This interesting work is also part of the Embassy of Circular and Biobased Building during DDW22 on Trudotorenplein.
8.
An alternative to concrete
Ecolve is a bioreceptive alternative to concrete. Ecolve consists of recycled materials from the traditional concrete industry that are bound together with an innovative binder that stimulates the growth of CO2-absorbing mosses. This is how the built environment transforms from grey to green! As a result, the landscape will actively contribute to the absorption of pollution while improving ecological value, water retention, and microclimate.
Curious about how this works? During DDW22, you will find this project in the exhibition of the Embassy of Circular & Biobased Building on Trudotorenplein on Strijp-S.
9.
Artificial flowers made from bacteria and fungi
Artificial plants made of plastic-like material are a thing of the past. Designer Laura van de Wijdeven develops fully biodegradable materials. She uses fermentation techniques in which she combines garden waste with bacteria. This creates a bio-film, an organic compound. She uses the remaining weeds as nutrients for the production of mycelium, a network of fungal threads. This is how the completely natural materials are created.  
You can see exactly how this works at the exhibition of the Embassy of Rethinking Plastic at Yksi Expo on Strijp-S.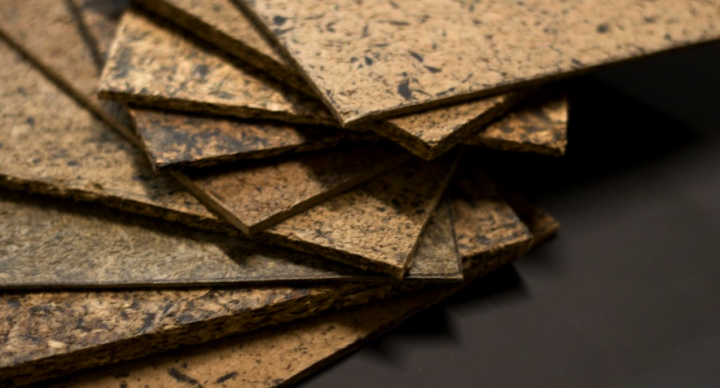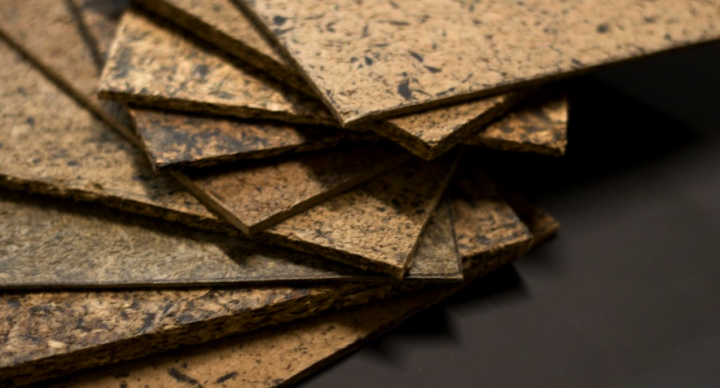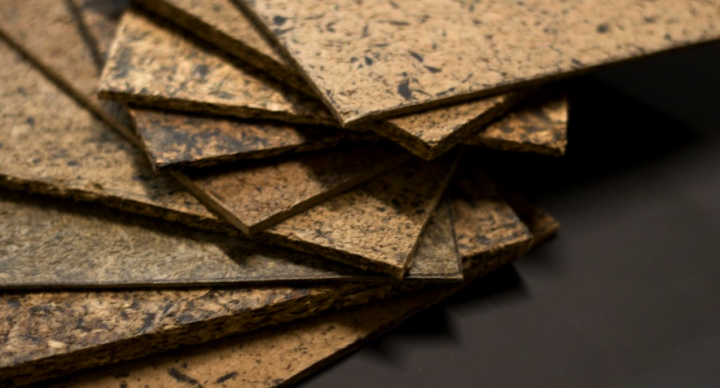 10.
Blueblocks with seaweed from the North Sea
Seaweed is a fast-growing crop that does not need fresh water, land, fertilisers, or pesticides, and that stores a lot of CO2. Sea-Wood materials is a range of board materials made from local seaweeds mixed with residual flows from the wood and paper processing industry. With the natural binding agent from the seaweed itself, it is pressed into softboard, MDF, or chipboard as a clean and circular building material.
You can see the Blueblocks with your own eyes during DDW22 in the Embassy of Circular & Biobased Building on Trudotorenplein!