WDE Spotlight: Omlab
In WDE Spotlight, we give the floor to several designers from the Embassies. This time, we talk to Margreet van Uffelen, Research & Organisation at Omlab, part of the Embassy of Rethinking Plastic in 2022. What is her background? What inspires her? What does Omlab hope to achieve through its work? You can read about it in this Q&A!
Published on
23 September 2022
Can you tell us more about yourself, your background and your design practice? 
We feel a responsibility at this stage of climate change to do what we can. Omlab is our way of doing that. We design, develop and research with 100% respect for nature. We have created a place where we can explore and develop freely. So Omlab is a kind of nursery. 
We develop promising experiments and material mixtures in collaboration with industry, education, innovative clients or companies without their R&D department. Omlab is our circular bio-based design studio, founded at the end of 2019. We work from the workshop. Huub is the designer and materials man, and I, Margreet, am the organiser and communicator. Make (!) the difference is both the mission and the method. 
Your method, in which you 3D print with the waste flows from water purification, is part of the Embassy of Rethinking Plastic during Dutch Design Week. What can you tell us about this project? 
Omlab developed a completely cement-free, environmentally friendly, 98% circular material with the strength of gypsum concrete (C8). Mainly made from calcite, cellulose (Recell) and Kaumera, raw materials that come from drinking water and sewage treatment. 3D printing saves material and is lightweight, about half the size of printed concrete. It is also low-emission; we're currently working with TNO to determine how positive the figures are.
With the ItBetterMatter material prototype, we investigate how products for construction and infrastructure can benefit biodiversity. With the further developed BuildMatterial, we explore how 3D constructive printing (3dcp) can become synonymous with 3D circular printing. A fun tip: Omlab's multi-year circular exploration into building biodiversity, 'Building Biodiversity,' will be on display at the Yksi Expo until the end of 2022.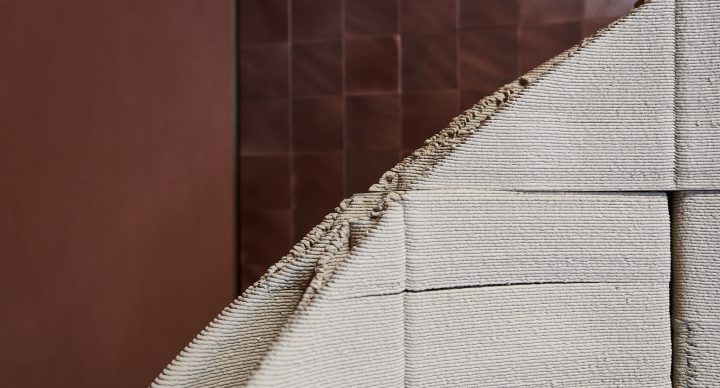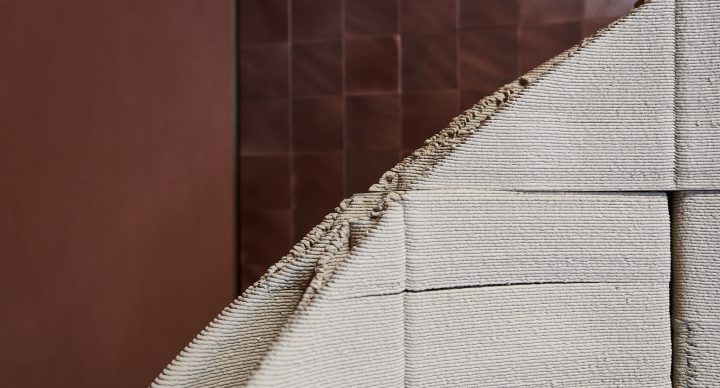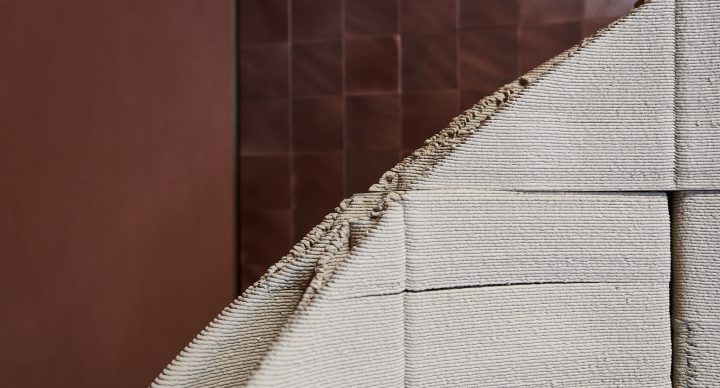 Can you explain how this project relates to this Embassy's narrative? 
We hope to be able to replace a percentage of concrete and plastics. We increase the value of poor raw materials with a combination of innovative techniques and old crafts. It will make you think twice before casually throwing it away or burning it in a landfill.  
It is said that raw materials are scarce, but we see an abundance of them! Many environmentally friendly, local, and low-emission materials have barely been explored for construction and infrastructure. 
Your projects focus on circular raw materials from sewage treatment and drinking water production. Why did you decide to focus specifically on this?  
This year it was already Earth Overshoot Day in our country on April 12, 2 weeks earlier than last year. In short, the maximum for what the earth can produce and process in terms of waste. From that moment on, we build up debt. We increase the debt to the earth, other continents, and future generations. The choice to see waste as a raw material is a logical choice for us. 
Less than a hundred years ago, raw materials came from nearby and waste barely existed. Now we drag raw materials halfway around the world. For profit. But calling a raw material or semi-finished product profitable or cheap does not mean that it is. Someone or something, somewhere in the world, pays the price. We don't want to work like that. We do not use fossil raw materials, do not exhaust the earth for minerals and do not add chemicals. You can see that as a limitation, but it is bloody interesting. We are deploying design power, as WDE calls it, in search of environmentally friendly alternatives. Curiosity is our most important tool. 
What kind of design/project would you like to realise in the future and why? 
Not building is the most sustainable option. But if you do build, do it 'naturally well'. We 3D printed a two-meter-high wall. With that BuildMatterial, the next step could be a small home, a tiny house, or the building blocks to build them. With the next version of BuildMatterial, we're thinking even bigger. 
We want to complete several circles. We're going to use our environment's waste to make ecologically responsible building materials. At the end of a building's lifespan, you can use it to 3D print the next building or enrich the soil. 
Can you name another interesting designer dealing with the same subject, and why is their work so strong in your eyes?
One designer… I'm currently thinking more about the role of architects in circular construction.  For example, Broekbakema and Daan Bruggink (Orga). We would like to learn from a designer like Daan Bruggink. Orga consistently opts for naturally good buildings. The Avolare Wildlife Sanctuary in our region is an example of this. 
We are going to make a real difference with our collaboration with Broekbakema. Together we're investigating how Broekbakema can apply our material and Bruil's industrial 3D printing technique to their projects. 
How do you think you can make an impact with your work?
Construction is one of the major causes of climate change. Entire mountains are scraped, and people are exploited for raw materials. The CO2 impact is enormous. If we can help change construction… That's a bit overly ambitious for just us, almost a fairy tale. With a single innovator like Klein Duimpje. But add up all the circular change makers, and you can see that we're kick-starting the necessary changes with seven-league boots. 
Where do you see the biggest challenges when it comes to biobased and circular construction?
Be able to compete with the linear price of existing building products. Once the fair, accurate price starts to count in the economy, circular, bio-based products will always win. Good construction products, without damage to the earth and less or no CO2 emissions, with respect for human rights, the environment and the future, less transport. 
If you could choose one person to work with (a scientist, artist, philosopher, biologist, designer, politician, anyone), who would you choose and why?
Margreet: I would like to talk to Tim van Hattum and his team of researchers from Wageningen University & Research. They sketched a scenario for the Netherlands in 2120. A futuristic view, but we can fully imagine how the necessary houses can be built. While preserving nature and reducing emissions and waste.
Huub would like to work with Joris Laarman. 3D printing in construction is usually about freedom of form and material saving (of concrete). Huub's question is: How do you make it profitable and legitimate to use 3D printing in construction? The scale of Laarman's bridge in Amsterdam is inspiring. He looks at examples in nature, develops, combines technology and aesthetics, and does not shy away from anything. Imagine such a person working with waste flows for construction! The impact would be huge.
For/with which company would you most like to do a project? And what kind of project would that be?
We are already working with fantastic companies. Bruil prefab printing, Fillip Studios, Lilian van Daal, Broekbakema, Movares, MVRDV and many others. Our building block is included in the materials library of Foster and Partners. We always mention Wasp's printers and buildings when we tell them where we want to go with our inventions. Our big wish is to work with Wasp. That is the pioneer in 3D printing. This company has developed machines for large-scale printing. Wasp 3D print – among other things – with loam. In our joint project, the earth would remain where it is. It would form the fertile soil around the house. We then 3D print with ItBetterMatter and BuildMatterial or the follow-up. Construction and (soil) biodiversity can go hand in hand.