Tell me what you eat and I will tell you what you are (and the other way around)
This year the Embassy of Food covers the full spectrum of food design. From food entertainment to science and health. A conversation with three insiders about food design throughout the years.
Published on
9 October 2020
Tell me what you eat and I will tell you what you are (and the other way around)
"The field of food design has exploded in recent years", says Jorn Konijn. This year, Konijn is the curator of the Embassy of Food and has put together a program that reflects the many ways in which designers are currently working on food issues.
Trends
One of the speakers of the Embassy will be food designer Annelies Hermsen. Hermsen has a studio in Eindhoven and develops food concepts for events, companies and hospitals. This year at the Embassy of Food she will give a glimpse into her 'library'.
Hermsen: "I want to show the bigger picture of what food design is and take a closer look at various trends. In my work I continuously collect concepts that I find inspiring and I take a close look at the world around me. In my talk I will highlight the different trends I see. I will be talking about consumer behavior and our desire for convenience. But I also discuss the influence of technology and the role of health and sustainability. Plant-based food was always part of that, now it's a trend in itself."
Homegrown legumes
Marjon Krol is working on it on behalf of ZLTO on a daily basis. The project leader at the Southern Agriculture and Horticulture Organization is trying to get more Dutch legumes on our plate. Meat substitutes are becoming more and more normal, but the ingredients for those burgers, soy for example, are still mainly sourced from abroad. A missed opportunity, according to Krol. "Soy, field beans, peas, lupins and brown beans, not only do they bring health and climate benefits, they also provide healthy soil and more biodiversity", says Krol.
Dutch growers would therefore like to grow legumes, but the yield of the crop is still too low. "By using the advantages of Dutch legumes we want to create added value", says Krol. That's why she connected five processors of legumes with five designers. Together they developed concepts with Dutch beans and peas. Not copies of existing burgers, but entirely new products that show the strengths of Dutch legumes. The result? All five ideas can be viewed here.
New Deal
"For decades, food production has been systematized, internationalized and financially optimized", adds Konijn. "In addition to numerous positive effects, this has also led to a system in which we have lost sight of sustainability, care for the climate, appreciation for the farmer and knowledge about food."
The Board of Government Advisers recently advocated a new balance between farmer and society. In addition to a fairer income for the farmer, a New Deal should also provide clean water and air, healthy soil, more biodiversity and an attractive and accessible landscape. In order to find out what such a New Deal could look like in concrete terms in different regions, national advisor Berno Strootman has started three regional pilots in three landscape types: Salland (sand), Krimpenerwaard (peat) and De Marne (clay).
Speculative design
Sharp & Sour looks even further ahead. The Barcelona-based design agency is concerned about population growth and the distance we have from the source of our food. What if a majority of the urban population no longer has access to raw materials such as in supermarkets? What if the only available source of food is what you find within the city borders? For this speculative project, Sharp & Sour wondered what it would be like to get our food from our own urban environment, and developed three dystopian dishes in this context.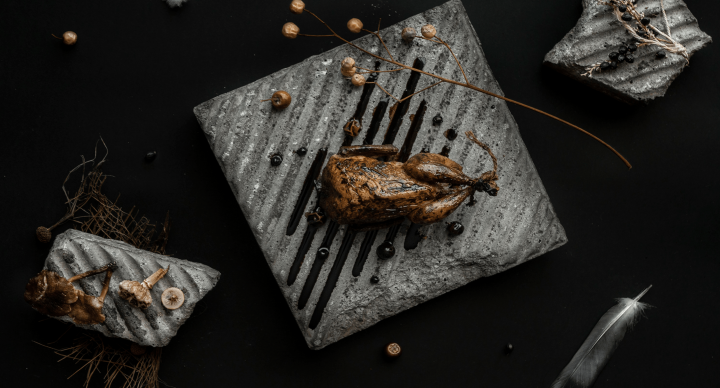 Food and identity
But the subject of food touches on much more than just production issues. For example, what is the link between food and health? What role does food aesthetics play in modern imagery, from Instagram to exhibitions?
"Food design is gaining in fame, but it has been around for quite a while", emphasizes Konijn. The Embassy presents some iconic food exhibitions from the past and what they have set in motion. "In addition, food has always been closely linked to identity. That perspective is reflected in the Palestinian Heirloom Seed Library, a project to keep endangered seeds and traditional farming methods alive. The associated cultural stories and activities around food are used to discuss broader issues, such as migration and displacement."