WDE Spotlight: What The Studio
In WDE Spotlight, we give the floor to various designers of the Embassies. This time we speak with Sara Landeira and Ekhiñe Domínguez of What The Studio, who contribute to the Embassy of Safety. What is their background? What inspires them? What do they hope to achieve with their work? Read it in this Q&A!
Published on
1 November 2021
Part of
Embassy of Safety
WDE Spotlight: What The Studio
Part of Embassy of Safety
Can you tell us a bit more about yourself and your design practice?
What The Studio is a creative duo formed by Sara Landeira and Ekhiñe Domínguez. We are from Barcelona and Bilbao, but most of our grown-up designer life has developed in the Netherlands. Our little factory is in Amsterdam. 
Our work focuses on visual communication. Within this broad field, we mainly create visual identities and communication campaigns. We work for clients from different sectors as well as for other (bigger) creative agencies. 
Although the studio is just the two of us, we team up with other people depending on the size and requirements of every project.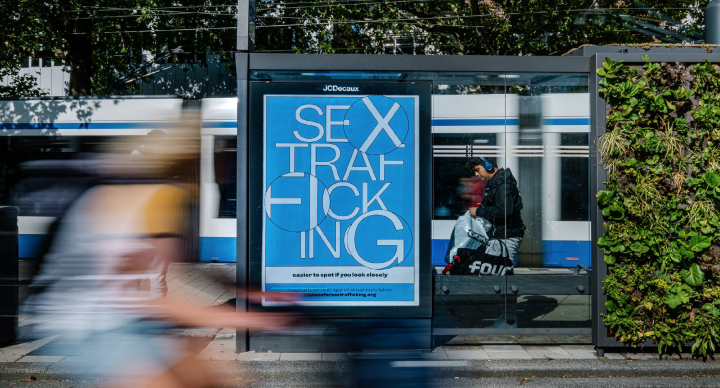 Your project No Place for Sex Trafficking is part of the Embassy of Safety during Dutch Design Week. What can you tell us about this project?
No Place for Sex Trafficking (NPFST) was developed within What Design Can Do's No Minor Thing Challenge (2018) as a proposal to the request of Openbaar Ministerie to come up with creative ways to tackle the problem of sexual exploitation of minors in the Netherlands.
Thinking from a visual communication standpoint, we had the idea of creating a certificate for hotels that would give visibility to the problem—something like a TripAdvisor or a sustainability label, but on a social aspect. To become more than just public awareness, we proposed that, to achieve the certificate, hotels had to educate their employees in preventing sexual exploitation. OM and the Ministery of Justice and Safety were enthusiastic about the concept and got involved in making it happen. 
So we created an online platform containing information about sexual exploitation and a certification program for hotels called No Room for Sex Trafficking. Companies can register for free and invite their teams to follow a short online training course where employees will learn the signals of sexual exploitation and how to act upon them. Once 60% of a company's staff has completed the course, the company receives a certification package with printed and digital materials that can be used to create awareness across their premises and online channels. The contents of the training have been developed in collaboration with NGO Defence for Children and with contributions by Politie and OM.
NPFST was launched in September 2020, and since then, around 200 hotels have been participating in the program, with almost 3000 employees being trained and over 100 certified hotels. The online platform is now available in English, Dutch and Polish, and will soon be available in four more languages. Finally, we are aiming to develop new programs for other branches of the hospitality sector, such as bars, restaurants and taxi drivers.
Can you explain how your project relates to the story of this Embassy?
The theme of the Embassy of Safety is 'surprising safety'. In NPFST, the 'surprise' is that hotel managers are willing to roll up their sleeves and combat sexual exploitation.

With NPFST, hotels are becoming a safer place where (sex) traffickers won't be able to operate easily, sex buyers will think twice before meeting a potentially exploited and/or minor sex worker, and guests, in general, will become aware that sexual exploitation is still an issue.
Do the projects of What The Studio often revolve around this theme? 
Not really. The themes of the projects we work on are quite diverse, but of course, we always enjoy the chance of making a positive contribution to a social cause. 
The most related project we worked on recently was a publication about the future of the Dutch Police, commissioned by Dutch Design Foundation. It was a much smaller project, but the interesting thing about it was that we could come up with a visual language that was very different from what you would expect of a police-related publication. As well as with NPFST, in every project, we aim to come up with a visual language that fits the subject but also challenges what is expected within the visual culture of a certain sector.
What kind of design/project would you like to realize in the future and why?
More projects like NPFST, which involve developing a concept from scratch, without any predefined formats and deliverables. We would like to include more interaction and experience in our projects, whether it is in the digital or physical space. We like variety: if a project can have it all (digital, print, spatial design), then we're happy. And if it makes a positive impact on society, even better.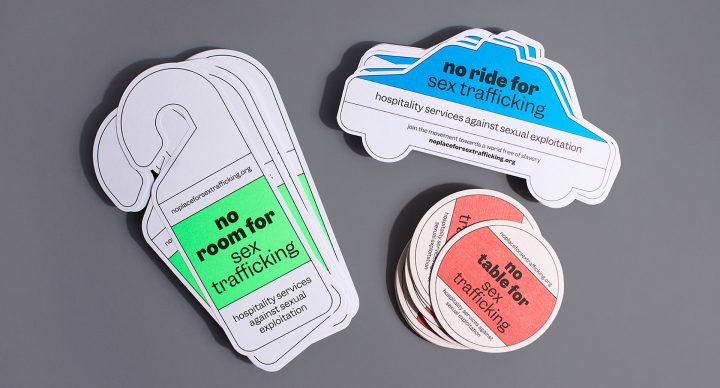 How do you think your design can make an impact?
The impact starts with an innovative idea that is designed cleverly. This means that you need to have enough time for researching and exploring different directions before making final choices. And then, you need a good budget that allows you to scale up implementation and get visibility.
Often, time is limited in projects for more commercial clients, while the limited budget is the issue for the cultural/social ones. Besides, briefings tend to come with a predefined range of formats and deliverables, while we think such decisions should be up to the designers and strategists. Even if we think smartly, it is quite a challenge to achieve impact within such boundaries.
Can you name another interesting designer who works on the same kind of topics, and what makes his/her projects so great?
It is not totally related, but the work of Spanish product designer Curro Claret comes to mind. His projects are original and often respond to social issues in a truly inclusive, simple, and waste-free way. We like the modesty and honesty of his outcomes, which we think are on the verge between design and art.
If you could choose one person to work with (a designer, politician, artist, scientist, organization, anyone), who would you choose and why?
It's hard to choose one specific person because there are many people we admire, but in general, we would like to collaborate with people from fields different from ours, with whom we could explore the more artistically free side of our practice. Such as artists, curators, or writers.
For/with which company would you like to do a project? And what kind of project would that be?
Same as with individuals, we don't have one particular 'dream client', but many of them. For us, it's more about what they do and for whom, and how much freedom and trust can we get when collaborating with them.