Retrospective 2020: Embassy of Food
Published on
15 December 2020
Retrospective 2020: Embassy of Food
"Food is one of the most intimate products we know. At the same time, it's also one of the most designed products," says Embassy of Food curator Jorn Konijn. Food affects our health, the design of our home, our city, our country. All of these aspects of food were discussed at the Embassy of Food this year.
We spent a week exploring the most important food trends with experts and showed hopeful developments in which sustainability, appreciation for the farmer, and knowledge about food were central. We also discussed the role of the designer in today's food issues. This particular Dutch Design Week (DDW) was one that took place in the midst of a global pandemic. So we asked ourselves: how has the intimate experience of food consumption changed in Covid times?
Approach
The fully digital DDW gave us the chance to develop a comprehensive online program with our embassy partners. Visitors could stroll through the virtual exhibition or attend one of the digital events from 17 to 25 October (2020).
Virtual exhibition
This year, curator Jorn Konijn selected five inspiring projects from the Netherlands and abroad for the online Embassy of Food exhibition.
The speculative Urban Foraging took a critical look at the coming food crisis in cities. Barcelona-based design duo SHARP AND SOUR explored what it would be like to get food from the urban environment. The exhibition shows how the designers develop three dystopian recipes with ingredients from their own city.
Agri meets Design is a platform that connects farmers with designers to come up with solutions for important issues together. As part of the exhibition, we showed the Agri meet Design mini-documentary with Fredrike Praasterink, lecturer of Future Food Systems at HAS University of Applied Sciences. In the video, she talks about the role of design in the transition to future food systems. Her observations help us better understand the added value of design thinking.
A year earlier, during DDW19, ten designers and ten processors (of pulses) met in Eindhoven for FoodLab Pulses. After a short speed date round, five designer-processor couples were matched. They worked together last year and came up with new, exciting, and tasty concepts for pulses from Dutch soil. What did it ultimately yield? Find out in the online magazine.
In line with current events, the virtual exhibition also reflected on solutions for the "anderhalvemetersamenleving," or one-and-a-half-metre-society. Studio H and Hendrik Works invited the audience to contribute ideas on how to maintain physical distance without losing the social aspects of a get together or dinner party. MINI MEET is an ongoing and open source research project.
Finally, the Palestine Heirloom Seed Library saw founder Vivien Sansour seeking to preserve and promote heritage and endangered seed varieties, traditional Palestinian farming practices, and the cultural stories and identities associated with them.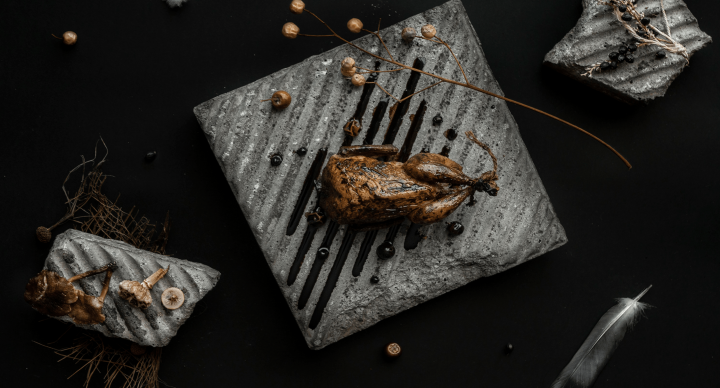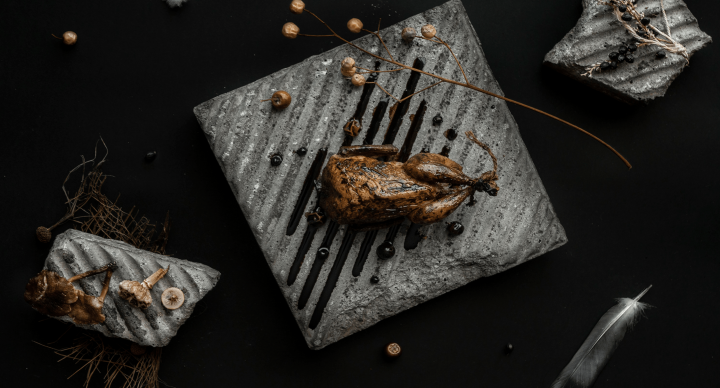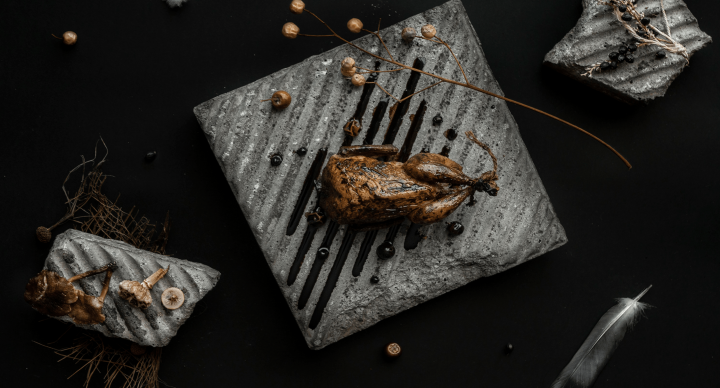 Events
In addition to the virtual exhibition, the embassy organised a number of talks with designers and partners. We asked speakers if they could share a recipe that matched the theme, or one that was so good they couldn't keep it a secret. Always wanted to know what a food designer eats? See the recipes here. 
Talk: Food Design – Current State of Affairs
The series of conversations kicked off with the question: where will we be in 2021 when it comes to food design? What's the scope of the discipline and what are the important challenges? We spoke with Chloé Rutzerveld, Annelies Hermsen, and Marije Vogelzang, three food designers each with their own approach to this design discipline.
Talk: Food – Local versus international
Our food is produced in various places around the world. The intimate connection that once existed between local production and what ends up on the plate has completely disappeared. We spoke with some designers about the question: what initiatives are there to introduce or reintroduce local food production? 
Talk: Agriculture of the future – College van Rijksadviseurs (Board of Government Advisers)
Marieke Francke (Atelier Rijksbouwmeester (Chief Government Architect)) and Karen de Groot (landscape architecture firm Paridon x de Groot) spoke about the agriculture of the future. The Board of Government Advisers, together with farmers, scientists, and designers, conducted research into 'landscape-inclusive' agriculture. The questions on the table: what could the landscape look like in ten to thirty years and how can farmers make a living from that landscape? Design research seeks answers from various disciplines, farmers, and regional stakeholders. 
Talk: A design pulse for the Dutch pulse
With FoodLab Pulses, five designer-processor (of vegetable products) couples give new impulse to the Dutch pulse. While the online magazine publishing the results was shared as part of the virtual exhibition, this Talk also saw the couples present their innovative concepts live. 
Talk: Food (design) that makes you think
As in all design disciplines, food design also offers thought-provoking and acerbic designs. Projects that make you think about your own ideas or behaviour. Sometimes with humour, sometimes more confrontationally. For this episode, we asked four designers about their project that challenges and questions the viewer.
Talk: Food – Heath and Education
The relationship between food and health is also increasingly the domain of designers. The influence of what you eat – and how much you eat – on your health seems obvious. But what exactly triggers what? How can we best learn about healthy food? And what's the designer's role in this, or what could it be?
In addition to these talks, we also organised, after DDW20, another special broadcast about food design as part of the WDE Talks in Pakhuis de Zwijger in Amsterdam. We spoke with Jorn Konijn (Head of Programme Dutch Design Week & Embassy of Food curator) and designers Chloé Rutzerveld (future food designer) and Arne Hendriks. Watch the broadcast.
Media
There were also three great podcasts this year about the Embassy of Food. On the Food Podcast, we spoke with designers Chloé Rutzerveld and Hendrik Coetzee. On the second Food Podcast, we spoke with Sietske Klooster of the Melksalon. Naomi Jansen of De Voedselapotheek and Danielle Roberts of Magic Tea were guests on the Food x Health Podcast.