Exhibition Embassy of Water
At Dutch Design Week 2019 the Embassy of Water will demonstrate how valuable water is and how we can really start to appreciate tap water, rainwater, rivers and canals. Find out more about the participating designers here!
Date & Time
19 - 27 Oct 2019 - All day
Location
Het Lab, Campina
Kanaaldijk-Zuid
5613 LE Eindhoven
Exhibition Embassy of Water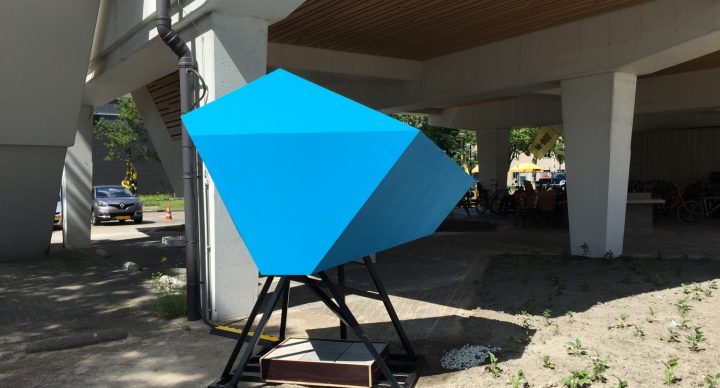 Visitors are stimulated to think about their own water consumption and inspired  to think differently about water. This is how we can achieve a more sustainable, water-friendly society together.
Lotte de Raadt - The identity of our drinking water
Drinking water in the Netherlands is extracted from various sources. That is why every drop of water that comes out of the tap is unique. You can say that water has its own identity. Ceramist Lotte de Raadt works together with drinking water supplier Brabant Water on a drinking water passport for the various sources in Brabant. With her design, she wants to raise awareness about water use. The drinking water passport gives the user insight into the role of nature and the process from source to tap, and gives our drinking water a clearer identity.
Hugo Schuitemaker - Trusted Source
The Meuse is an important source of life ánd drinking water, that users can enjoy with confidence. After use, this drinking water becomes Meuse water again, via the sewage system. Hugo Schuitemaker and the 'Schone Maaswaterketen' show that we ourselves are an important source of the Meuse. To enjoy the water carefree, we must trust each other as a source.
The composition and origin of drinking water from the Meuse is variable.
Hence, it requires a lot of work to maintain the high quality of our drinking water.
Residents who are connected to the Meuse via the sewage system can, through simultaneous flushing of a special marker, show their commitment to a cleaner Meuse and thus contribute to mapping the origin of our drinking water.
Wouter Corvers - 2050: Choose what you use
The Dutch use 120 liters of clean drinking water per day for household use. We wash and flush the toilet with tap water. Only 5% of the water is used for drinking and cooking. Do we realize how much water we use every day? In collaboration with the province of Brabant, Wouter Corvers created an interactive installation to discover whether the Dutch are open to alternative water sources such as rainwater or locally (indoor) purified water.
Atelier Axel - Channelling well
The Embassy of Water is located at the Eindhovens Kanaal on the former Campina site. Because Campina discharged clean cooling water for many years, the canal water is very clear and contains various types of aquatic plants and fish species. But what do you see from this underwater life as a resident? How can a city connect with local water bodies? Atelier Axel works together with the province of Brabant to make the ever-changing water quality visible.
Diamond Smart Rainbarrel
Due to climate change, extreme weather events are increasing. The sewage system cannot always handle heavy rainfall. The Smart Rain Barrel developed and designed by Studio Bas Sala contribute to the solution for these inconveniences in a smart and sustainable way. The rainwater is not led into the sewage system, but into the diamond, where it is buffered and when necessary released into the surrounding garden. The built-in smart system looks at the weather forecast via internet. As soon as a heavy rain shower is expected, the rain barrel releases water automatically and creates buffer capacity for the coming rain.
Studio Bas Sala - DIY Rain water project
Due to climate change, extreme weather events are increasing. Longer periods of drought take turns with large amounts of rain in a short time. During heavy rainfall, the sewer can't handle the huge amount of water, which leads to flooding. In collaboration with the city of Eindhoven, Studio Bas Sala investigates the possibilities to use rainwater for watering gardens to unload the sewage system. The do-it-yourself designs are easy to make. Everyone can put one in his or her garden.
Nienke Hoogvliet - Coalition
Activated carbon has a purifying effect, it can purify both our body and our environment, as well as water from (toxic) substances. Nienke Hoogvliet works together with Waterschap De Dommel and designs a new (cleaning) ritual, in which you clean yourself and your environment with activated carbon. As a result, the wastewater that washes away is also immediately purified. You take better care of your body and contribute to improving water quality.
Anthroponix - Wild land
Anthroponix presents a circular future vision wherein the new residents of the former Campina factory become co-producers of their own green living environment. 
The original wild land, which is a free translation of the local Campina – Kempen landscape, can come back to the area in a new way by deploying future residents as renewable resource producers, creating a complete and vital ecosystem.
Teresa van Dongen - Tubey
Dutch cities have traditionally been designed to remove excess ground and rainwater as quickly as possible. Due to climate change, we can however, in addition to frequent flooding, also expect longer periods of drought. This is making it increasingly necessary to repurpose rainwater rather than let it simply drain away. With her Tubey design van Dongen investigates together with Waterboard De Dommel, whether we can introduce city dwellers to a new way of thinking about water conservation, in a playful way. Tubey collects water that would otherwise disappear into the sewer. Tubey can be ordered as an assembly package, and can be easily put together, making use of a removed piece of downspout.
Garrett Benisch - Sum Waste
Sum Waste wants to change the social view on waste by making functional products from waste water. The result of this exploration is a pen and ink made of materials from 'biosolids', of digested sewage. When users write notes on their hands with this pen, stick the pen behind their ear or chew on their pen, they realize that even our own waste is not waste at all.
Anniek Vetter & Sylvia Debit - P-Bank
The P bank is a public toilet facility that aims to close the phosphorus cycle. The facility allows visitors to make a valuable P donation. While donating, one learns about the upcoming phosphorus scarcity and about the solution: closing sanitation systems so that we can recover P.
This year the P-Bank received funding from the German Federal Environmental Foundation (DBU) The first P-bank was build and tested for six months during the 100th anniversary of Bauhaus in Weimar, Germany.
Space&Matter - SchoonSchip; a new form of LIVING
Translating as 'clean ship', SchoonSchip is a floating housing development of 46 dwellings. Built on the model of a sharing society, its goal is to be completely circular. It promotes community empowerment, closing resource loops and going 'off the grid' to reclaim control and responsibility over local resources. It will be Amsterdam's most innovative and sustainable neighborhood consisting of 30 houseboats on which 49 households will live.
Kim Hemmes i.s.m. Jochem Esser, Valentina Marino and Boris Acket - There's something in the water
Kim Hemmes brings together several artists for a water experience. 'There's something in the water' highlights our relationship with water. The element water is everywhere, and therefore a fundamental part of our lives. The experience that this group of artists offers, reveals our personal impact on this transforming substance; from sound, to motion, to just being present.
Jochem Esser- Kymatic
In Kymatic, water visualizes sound. A small portion of water resonates at frequencies of sound. Water, space and light make the boundary between object and space disappear within this system. Water is always in relation to its environment. It shows us how our mechanical view of objects and subjects is an anthropomorphic view of the world. Within this vision we create a strict distinction between object and space. Water can be both.
Valentina Marino – An Anthropology of Water
'An Anthropology of Water' is a frozen water moment caught in a transparent tile. This form is set in motion by light and sound. It creates an ecosystem in which water, light and sound communicate with each other in a dialogue of movement. 'An Anthropology of Water' reminds us of our deep, organic relationship with this natural matter.
De Groene Water Wand - How do you keep your feet dry?
The Green Water Wand is a rainwater fence that combines water storage, planting and fencing. The Green Water Wand is an idea from Ingrid Langenhoff and Dorine Epping, advisers in the field of climate adaptation. The water wall is made of recycled plastics and can store almost 2000 liters of water. That is about 20 times more than a normal rain barrel. This is how we help to reduce the plastic waste problem and create a
climate proof city.
Hoveniers Soontiëns - The water friendly garden
Soontiëns Gardeners create an example of a water-friendly garden at the entrance of the Embassy of Water. As experts in the construction of green facades and green roofs, they show what the possibilities are for your own garden.
Semilla Sanitation Hubs - Circular toilet unit
At DDW, the public toilet facilities at Campina are provided by Semilla Sanitation Hubs, developed by Peter Scheer. The Semilla modules form a closed waste water treatment unit, which uses advanced room technology to convert sanitary waste water into clean water and fertilizers for food production.
Studio 1:1 - Water for urban trees
This tree grid features new functions that are de- signed to solve two major social challenges. The fact that the grid is made from the clippings of stream banks, serves the biobased circular economy. The residual material from the De Dommel Water Board (Waterschap De Dommel) thus be- comes a resource. The tree grid also retains rainwater temporarily, which benefits urban climate adaptation. This way, the water does not disappear into the sewer, but is slowly released at the roots of the tree. This counteracts sewer peak loads and improves soil quality and groundwater balance in dry periods.